The new Pafos FC
Developing the brand identity of Cypriot soccer team Pafos FC. New emblem, corporate identity, mosaic illustrations inspired by the UNESCO World Heritage Site Archeological treasures of the city as well as by the history and the culture of modern Pafos area.
History of PAFOS FC and its logo:
Pafos FC is a brand new team but with a 60 years old history. It's founded in 2014 after the merger of AEK Kouklia and AEP Paphos. AEP Paphos was also the result of a merger of the two clubs of the city, APOP and Evagoras. Both teams with decades long history and important relationships with the citizens of Pafos and the whole island. Evagoras is named after Evagora Pallikaridis a Cypriot national hero, a multitalented person, a poet, a athlete of many disciplines and sports and a former football player of APOP. 
What I had to go is to redesign the PAFOS FC emblem following 3 mayor directions. 
1. Respect history and tradition (Political, historical and athletic)
2. Build the whole visual identity around the image of Evagoras Pallikaridis, not just a national hero, but also the inspirational figure that Pafos FC fans recognize as their point of reference.
3. Create a contemporary, beautiful and clear design system reflecting the colors and the lifestyle of the Pafos region and the West Coast of Cyprus.

You can see on the left the various logos of the teams that are merged to create Pafos FC. On the right the old logo of the team, designed in 2014 and 2015 and finally on the right and bellow the brand new one.

The mosaics:


As you can read on UNESCO World Heritage Pafos page "Paphos has been inhabited since the Neolithic period. It was a centre of the cult of Aphrodite and of pre-Hellenic fertility deities. Aphrodite's legendary birthplace was on this island, where her temple was erected by the Myceneans in the 12th century B.C. The remains of villas, palaces, theatres, fortresses and tombs mean that the site is of exceptional architectural and historic value. The mosaics of Nea Paphos are among the most beautiful in the world."
As a mosaic lover and mosaic maker I couldn't find any better place to live than Pafos. And I couldn't find any better visual vocabulary than the mosaics to communicate Pafos FC history, relationship with the city and values.
I have created 6 mosaics following a cracked tile style, filled with photos from Pafos area and team activities. There is a simple idea behind the composition: The interaction between the footballer and the Pafos scenery. I have chosen the most famous landmarks of the region and some nice football shots. 

The 1 color mosaics for tshirts:
Some applications of the mosaics in advertising and branding activation events: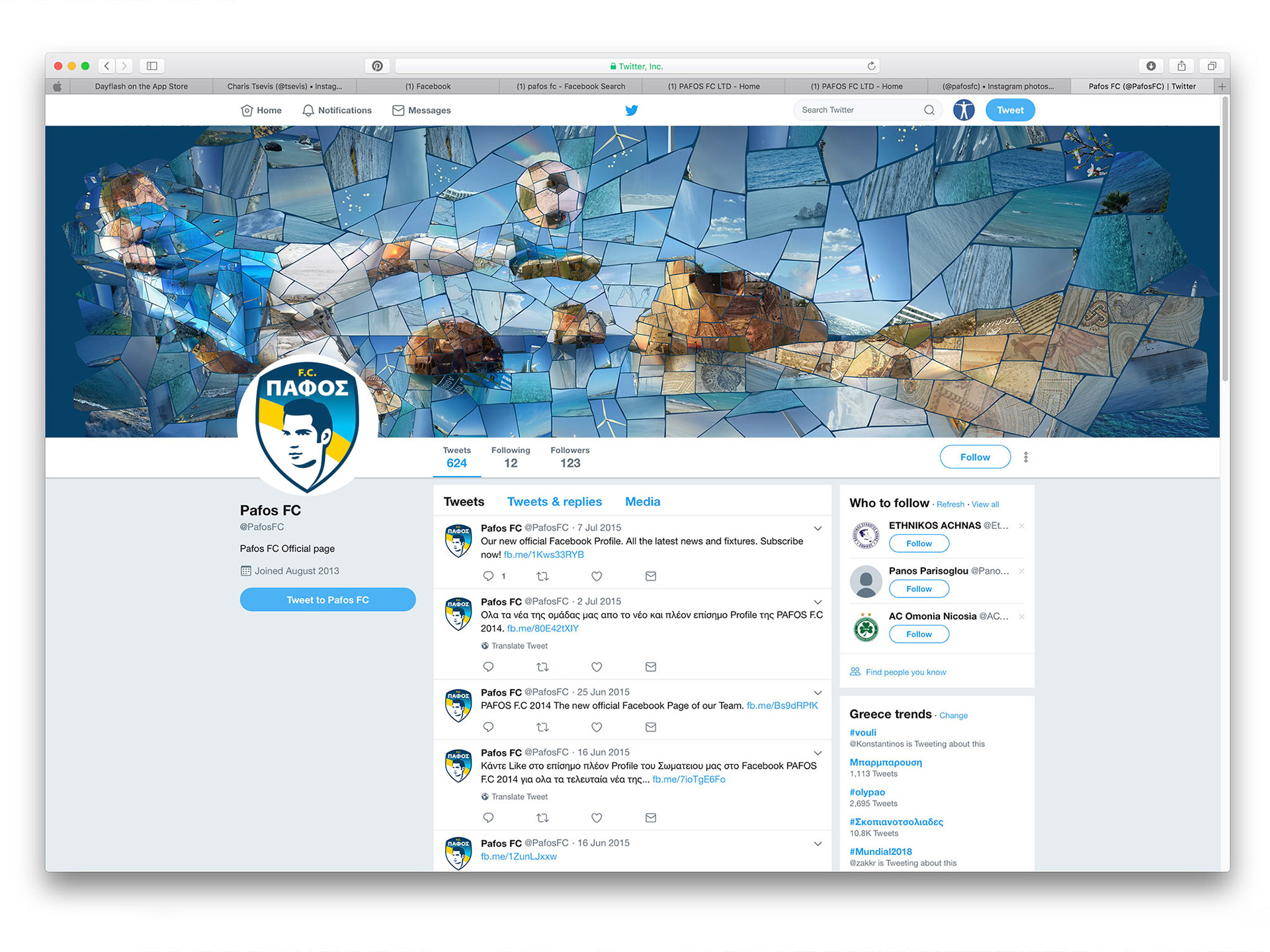 Some details of the mosaics: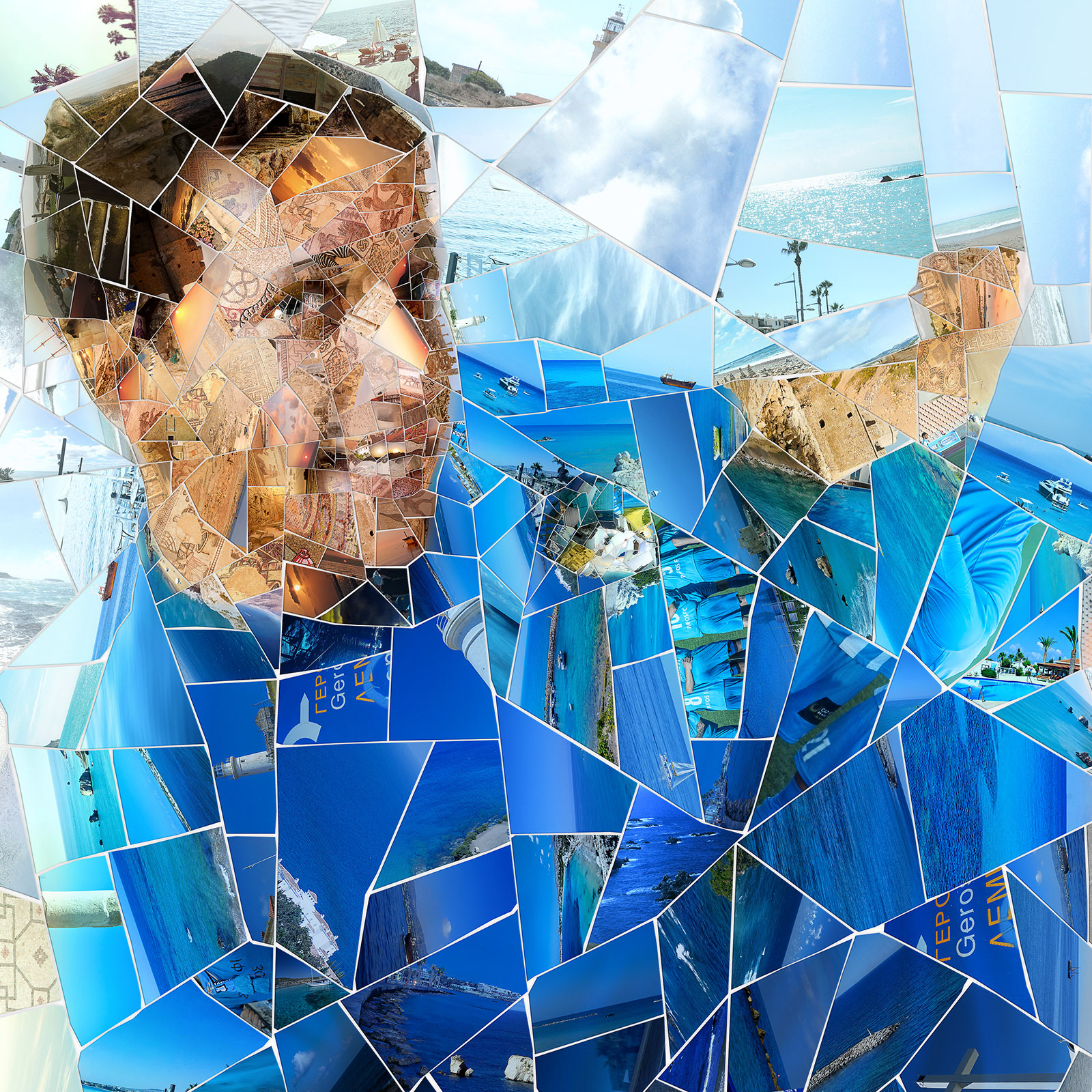 Pafos is my new home the last 3,5 years, Pafos FC is my home town's team and it was a great honor and joy to work for them and create the visual identity for a symbol of the place where I live. So I want to sincerely and deeply thank everyone at Pafos FC for the opportunity and the honor. 
Special thanks to Stelios Papageorgiou, a true fan of the team and a inspirational leader. 
I could add tens of names but I will keep that short for not risking to forget anyone. Thanks guys, thanks Pafos FC. #IAmPafos