Each art print is created using only high-quality, eco-friendly production. Every artwork is hand-signed, numbered, and has a certificate of authenticity for ultimate exclusivity.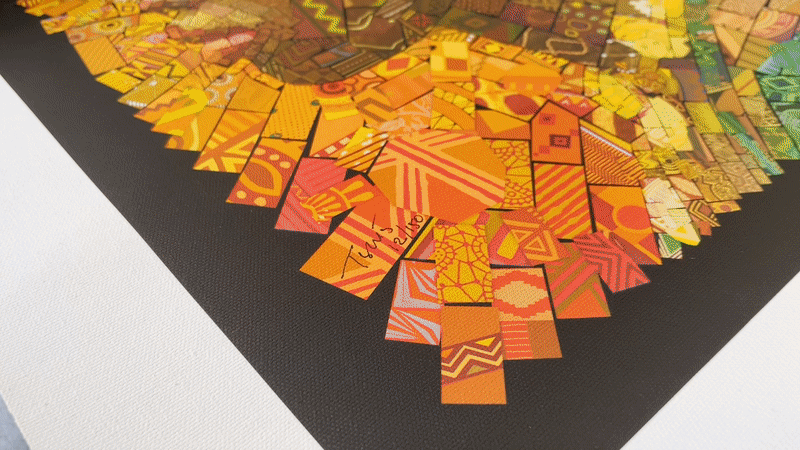 Art should be accessible to everyone, regardless of their budget or background. That's why

Museum-Quality

,

Limited Edition Artworks

that combine the exclusivity of a gallery piece with the affordability of a mass-produced print. My prints are created using the highest-quality materials and printing techniques, ensuring that each piece is a work of art.
Unlike traditional galleries that offer only large-format one-offs or highly exclusive runs, my Limited Edition Artworks are produced in small runs, making them both affordable and collectible. Each print is

hand-signed

and accompanied by a

certificate of authenticity

, making it a unique piece to enhance any collection.
I understand that as an interior designer, corporate art collector, or art consultant, you need artwork that makes a statement and reflects the prestige of your client. That's why I offer a range of prints in different styles and sizes so that you can find the perfect piece for your project.
Whether you're looking for a single piece to complete a room or a collection of prints to enhance your brand image, decorate a hotel or a travel cruise ship, or just your holiday villa, Limited edition art prints are here to help. 
My goal is to make top-quality artwork attainable for all interested in it, so you can be confident that you're getting the best value for your investment. Choose from a range of Museum-Quality, Limited Edition Artworks today and experience the difference that true artistry can make.
Museum-Quality, Limited Edition Art
The artwork combines mosaic art techniques with modern digital technologies. This gives Limited Edition prints a distinct and recognizable aesthetic that sets them apart from other art prints on the market.
Limited Edition prints are a curated collection of selected works with

over 30 years

of productivity and exposure at international exhibitions and art fairs. This means the artwork has been chosen based on its quality, rarity, and aesthetic value, adding another layer of exclusivity and uniqueness to the Limited Edition prints.
Museum-Quality, Limited Edition Art is a highly sought-after collection of exclusive artworks carefully curated and hand-signed by myself. Unlike mass-produced prints or one-of-a-kind pieces, my Limited Editions perfectly balance

exclusivity

,

affordability

, and

quality

.
My collection features print runs

of 50 to 150

, far more than the conventional art market's limited edition prints of only five pieces. My Limited Editions are accessible to a broader range of art lovers, starting at under $199.
As my Limited Editions sell out, the value of the remaining prints increases, making them

highly collectible

and sought-after by art collectors and investors alike. With each print accompanied by a certificate of authenticity, you can be sure that you are investing in a truly unique and valuable piece of art.
Superior quality of materials and the eco-friendly Giclée 12-color print
Each artwork uses only the finest eco-friendly materials, including

acid-free fine art paper

,

satin photo paper

, and

cotton canvas

. These materials do not oxidize over time, and the cotton-based paper is lignin-free and free from optical brighteners. Combined with the Giclée 12-color printing process, my prints have superior quality and long-lasting beauty.
Giclée 12 color printing is an excellent printing technique that is ideal for creating high-quality art prints that are both beautiful and

long-lasting

. Combined with my carefully curated selection of Limited Editions, it results in a truly unique and valuable piece of art you can enjoy for years.
A 12-color print is better than a standard print because it offers a broader range of colors and tonal values, resulting in a more detailed and accurate reproduction of the original artwork. Traditional printing typically uses four ink colors (cyan, magenta, yellow, and black), which can produce a limited range of colors and tones.
In contrast, a 12-color print uses 12 different ink colors, including light cyan, light magenta, and light black, as well as additional shades of red, green, and blue. This expanded color gamut allows for a much more nuanced and precise reproduction of colors, especially in areas with subtle variations in tone or hue.
Additionally, the 12-color printing process uses more nozzles and smaller droplets to achieve a much higher level of detail and clarity than standard printing. This results in a sharper, more vibrant, and lifelike print with a greater depth of color and tonality.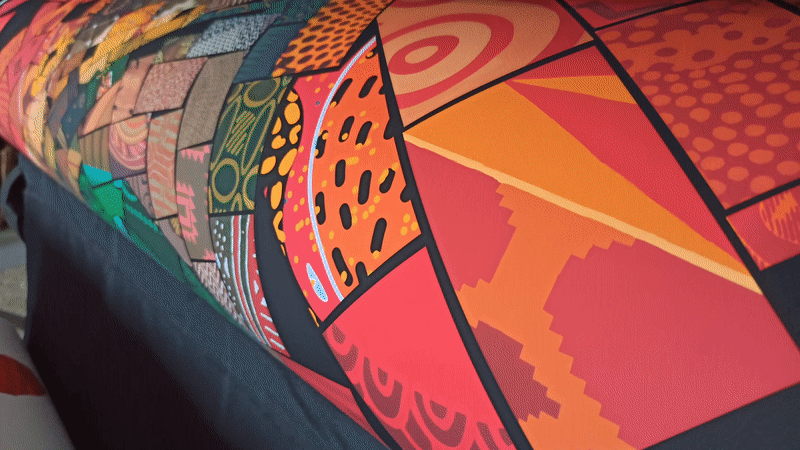 This important factor adds value to the artwork, guaranteeing its authenticity and uniqueness. My signature ensures that each piece is unique and cannot be replicated or mass-produced.
In addition to the artist's signature, each Limited Edition Art print comes with a

certificate of authenticity

that contains relevant information about the artwork, such as the format, date, print run, and edition number. This certificate proves authenticity and gives collectors peace of mind knowing they are acquiring a genuine work of art.
Limited Edition Art prints

are highly sought after by collectors, interior designers, art consultants, and individuals who value exclusivity and quality in their artwork. They are a way to own a piece of art that is both unique and valuable.
The Artistry of Mosaic Designs and Unique Color Schemes
The mosaic designs and unique color schemes create an intellectually stimulating visual feast, leaving a lasting impression on the viewer. The artwork's ability to blend traditional and modern techniques makes a unique and captivating experience that transforms a space, bringing warmth and comfort to the environment. 
Vibrant colors in each artwork create an eye-catching visual impact that can elevate the atmosphere of any room.
Evoke emotions and memories in the viewer, creating a personal connection to the art.
The intricate details can be a great conversation starter, allowing viewers to share their thoughts and interpretations of the piece with others.
A sophisticated addition to any room. The limited edition aspect also adds an element of exclusivity and prestige.
Art often inspires viewers to strive for greatness and pursue their dreams.
Art Enhancing Spaces and Impressing Clients
Art can humanize a space, increase productivity, and improve

well-being

. Big corporations have built art collections to enhance their employees' work environment. Art in key areas like the lobby can impress clients and attract talent.
Clients have expressed their gratitude for the quality and beauty of the artwork:

"Truly a beautiful work of art. You get a slightly different view from every angle you see it from. I had it custom framed as a gift for someone, and it came out gorgeous. Thank you for this amazing piece of art."

Cheryl, individual client.

"Just beautiful! The colours are so vibrant! It joins other amazing pieces by Charis Tsevis in my home, they always get so many compliments from guests :) Thank you so much!" 
Chevaun
, individual client.
Whether you're an interior designer looking to add a touch of sophistication to a room, a corporate art collector seeking a standout piece for your collection, or simply an art lover searching for something beautiful to adorn your walls, I invite you to explore my limited edition mosaic art prints that get renewed periodically.