A mosaic mural of The Golden Gate Bridge in the new Delta Sky Club
at the 
San Francisco International Airport
This year I had the honor and priviledge to work on a very iconic project. Delta Airlines commissioned me to create a mural for their new lounge at the San Francisco International Airport. The space would set the new standard for airport lounges around the world. The work would have to honor the city that is now leading the world in technology, innovation, and the arts.
The location of the new Delta Sky Club is ideal. Built on an extended part of Terminal 1, it overlooks the aircrafts, the runway, the San Francisco Bay and the Bay Bridge. Atlanta based Twinhouse Art Advisory, conceived and produced the 41' relief mural under the direction of Susan Gibbs.
Nothing is more symbolic of the Bay Area than the Golden Gate Bridge. I even recall it being referred to as the 'San Francisco Acropolis' by my dad some time back. Susan, also the Art Director and Art Consultant of Delta, was enthusiastic with the idea of capturing different moments of the bridge and the city and combining them to create a huge mosaic. We aimed to create a mural that would incorporate time and space. Light and dark. Day and night.
The work was further developed to create a three dimensional relief construction. We had the fortunate opportunity to collaborate with Craig Alan, an artist who worked patiently paying attention to every small image in the mosaic. Different levels, different frames, different textures and materials...the parts of a city that unite to create a whole came to life.
The final digital work in 7 pieces: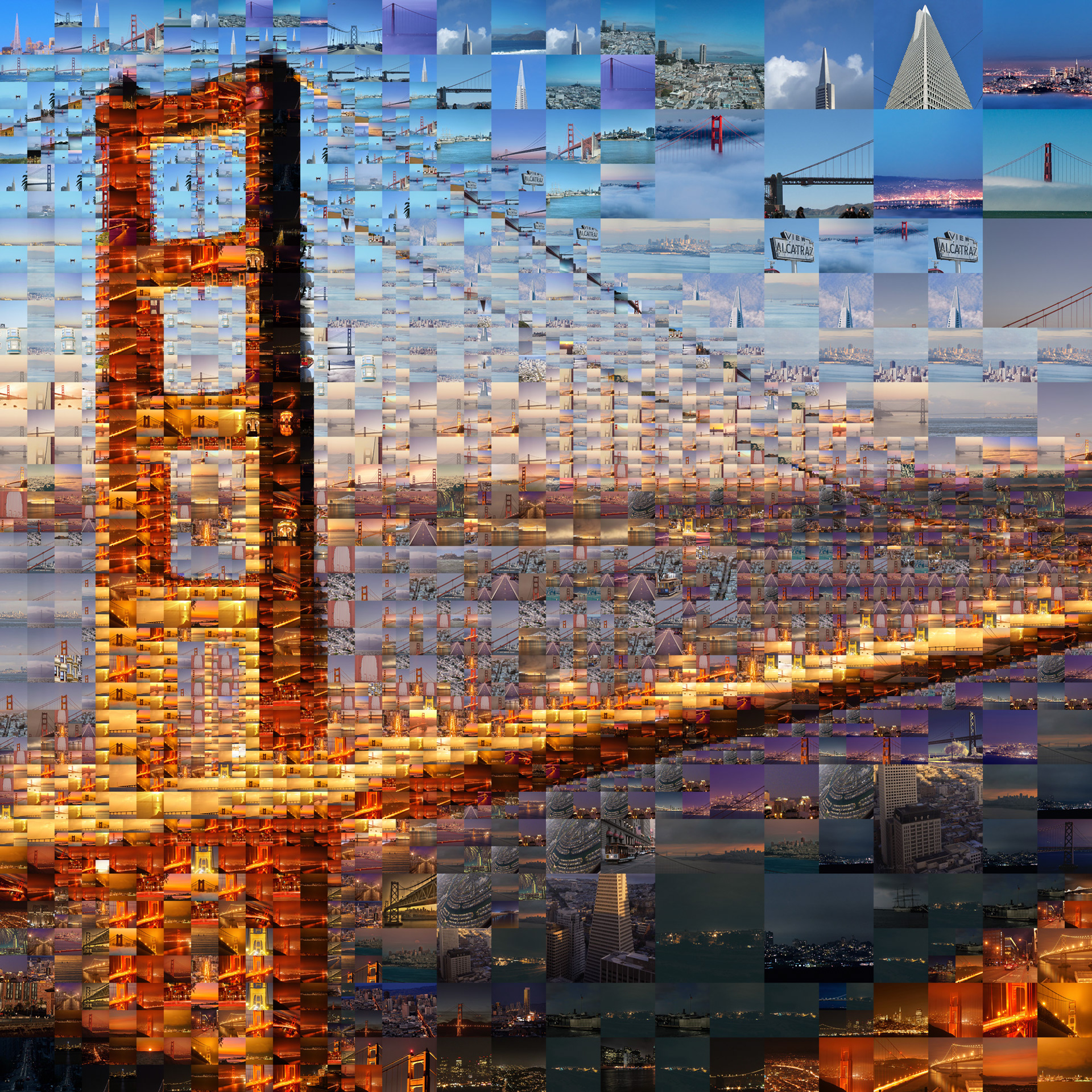 The relief construction inside the new Delta Sky Club at SFO:
Signing the 500 Limited Edition prints for the Sky Club opening.
Art Direction & Art Consultant: 
Susan Nicole Gibbs. 
Twinhouse Art Advisory, Inc
Digital Artwork: Charis Tsevis
Construction: Craig Alan
Sky Club photos: Dimitra Tzanos
Based on thousands of photos from thousands of great SF photographers. It's really impossible to mention all the names.
Many thanks to Susan, Kelly, Marc, Marc, Bruno and the rest of the team at Delta.