Editorial Illustrations 2016 - 2017
A collection of illustrations created during the years 2016 - 2017 and published in various media around the world.
Observer (USA): Hail to the Chief
A mosaic portrait of President Barack Obama made out of numbers, statistics and financial symbols. Created for an article on NY Observer.
Hollywood Reporter (USA): Stan Lee's Universe
Mosaic portrait illustration of Stan Lee made out of clips from his comic books. Created for The Hollywood Reporter magazine.
Jetstar (Australia): The Art of Discovery
A mosaic portrait of a female painter created by hundreds of pieces of paintings and drawings.
Eurowings (Germany): Football 1s and 0s.
Mosaic illustration showing a soccer player created by 0s and 1s. 
CBS SPORTS (USA): Thanks for the memories, Mamba!
A mosaic portrait of the great Kobe Bryant published on CBS NEWS network the day of his last game with Los Angeles Lakers.
Elegant Travel (Greece): From Delphi to Sanghai...
Mosaic illustration of a Chinese model made out of photos of Delphi. Created for the 3 years anniversary cover of Elegant Travel Greece. 
TimeOut London (UK): Time form your Close Up
A mosaic illustration of London Bridge made out of thousands of amateur photographers' shots for the cover of TimeOut London magazine.
CRAIN's Cleveland Business (USA): Made of money
Mosaic illustration portraying the highest paid athletes in Cleveland. Created for CRAIN'S Cleveland Business newspaper.

In these mosaics you can find Joe Haden, Corey Kluber, Johan Santana, J. R. Smith, Joe Thomas, Tristan Thompson. Parts of 20 different U.S. currency notes and 10 different Ohio maps to create the portraits.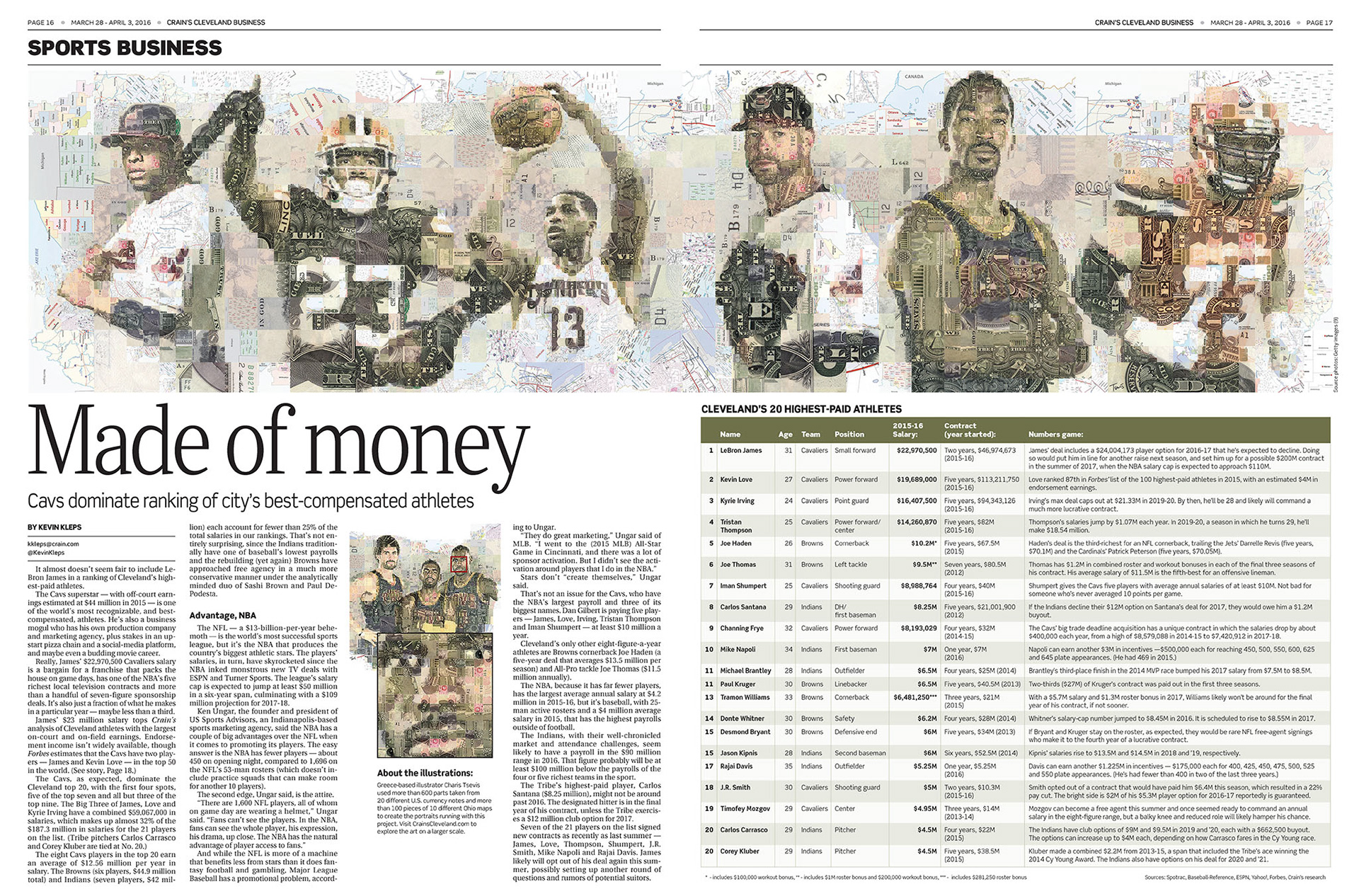 I had the honour to receive two Awards of Excellence, one in the category of Illustration and one in the category of Multiple Illustrations at the 38th edition of the Annual Creative Competion of the Society for News Design.
Communications of the ACM: Reimagining the Avatar dream
A mosaic illustration of an adrogynous face made out of various avatars and profile pictures.
Panorama (Italy): Matteo Renzi
Mosaic portrait of the former Italian prime minister Matteo Renzi for the Italian weekly magazine Panorama.
Apotheken Umschau (Germany): Digital Medicine
A mosaic portrait created by various medicine and lifestyle photos.
Boston University SPH (USA): Thought in a perplexing world
A mosaic illustration of an Rorshack ink blot created by various photos and objects.
Content magazine(USA): Art in 1s and 0s
A series of mosaic interpretations of the famous art pieces, Johannes Vermeer's "Girl with a Pearl Earring" and Andy Warhol's "Marilyn" created in binary code.
Rachel Ray Every Day (USA): 10 best burger recipes
A mosaic treatment of the number 10 to be used as an illustration in Rachel Ray's Every Day magazine.
Many thanks to all art directors, designers and journalists of these respected media for the great collaboration.
Thanks for visiting and commenting! ​​​​​​​